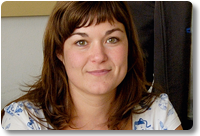 'Beatriu de Pinós' postdoctoral researcher
(La Roca del Vallès, 1981)
Bachelor Science degree (Marine Biology) from Fairleigh Dickinson University, NJ, USA. February 2004.
Graduate degree in Marine Sciences from Universidad de Cádiz. August 2007.
During 2007 and 2008 she worked as a field paleontologist at the Can Mata rubbish dump (Els Hostalets de Pierola, Anoia), where she began to get attracted to Paleontology.
Master's degree in Paleontology from the Universitat Autònoma de Barcelona and the Universitat de Barcelona. July 2009.
Her doctoral thesis was on the Eocene Primates from the Iberian Peninsula,  under the supervision of Dr. Salvador Moyà-Solà.
E-mail: This email address is being protected from spambots. You need JavaScript enabled to view it.