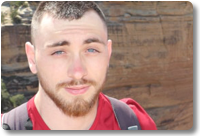 Predoctoral researcher. Paleoprimatology and Human paleontology 

(Perpignan, 1995)
Graduated in Biology of the Organisms Populations and Ecosystems (University of Toulouse III Paul Sabatier, France, 2016) and holding a Master's degree in Biodiversity Ecology and Evolution with a specialization in Integrative Biological Anthropology (University of Toulouse III Paul Sabatier, France, 2018) he has been involved for two years in projects dealing with the South African cercopithecoid fossil record under the supervision of Dr. Amélie Beaudet. In particular, through the application of 3D-imaging techniques, he explored the endocranial shape asymmetries and their changes within the cercopithecoid lineage and recently studied the inner craniodental morphology of the Papio specimen (U.W. 88-886) from the hominin-bearing site of Malapa, South Africa, for its implications in both papionin evolutionary history and emergence of modern baboons. For this latter project he stayed for three months at the University of the Witwatersrand (Johannesburg, South Africa).
Presently he is a pre-doctoral researcher at the Paleoprimatology and Human Paleontology department of the Institut Català de Paleontologia (ICP) under the supervision of Prof. Salvador Moyà-Solà and Dr. David Alba. His thesis focuses on the craniodental anatomy of Pliobates cataloniae (Alba et al., 2015) with the aim of refining its taxonomy as well as its phylogenetic position within non-cercopithecoid catarrhines. This taxon has critical implications for the understanding of hominoid evolutionary history.
His project is funded by the FPI grant from the Ministerio de Ciencia, Innovación y Universidades (Gobierno de España) and the Agencia Estatal de Investigación (AEI), co-funded by the Fondo Social Europeo (FSE).
E-mail: This email address is being protected from spambots. You need JavaScript enabled to view it.
ResearchGate: https://www.researchgate.net/profile/Florian_Bouchet