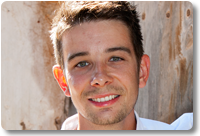 Paleoecology & Biochronology Research Group
Junior Research Group Leader

Adress
Neogene and Quaternary Faunas Department, Institut Català de Paleontologia Miquel Crusafont
ICTA-ICP. Edifici Z. Carrer de les Columnes, s/n. Campus de la UAB. 08193 Cerdanyola del Vallès, Barcelona
Tel. 00-34-935868609Fax 00-34-935868333E-mail: This email address is being protected from spambots. You need JavaScript enabled to view it.
Biography
Isaac Casanovas i Vilar (Canet de Mar, 1980) is doctor in Geology by the Universitat Autònoma de Barcelona (2007). Since 1998, before starting his university degree, he collaborated with the Institut de Paleontologia M. Crusafont, taking part in excavation campaigns and starting his studies on Miocene rodents of Catalonia under the supervision of Dr. Jordi Agustí, which would be later the subject of his PhD thesis. After obtaining his PhD he joins the Neogene and Quaternary Faunas Department of the ICP, and in the following years he makes some research stays at the Naturalis Biodiversity Center (Leiden, the Netherlands) and the Università degli Studi di Firenze (Florence, Italy). He has been awarded with a "Juan de la Cierva" research contract and from 2014 on he is a contracted researcher of the "Ramón y Cajal" program.
His main research line is the study of the Neogene Iberian rodent faunas and its applications for dating fossil sites and inferring past climates and environments. He has chosen a diverse and multidisciplinary approach so that his works combine varied topics including geometric morphometrics, taphonomy and evolutionary paleoecology. He has authored or co-authored more than 130 scientific publications, mostly in international journals and congress proceedings. His papers have been published in top journals including Science; Proceedings of the National Academy of Sciences of the USA; PLoS ONE; Journal of Biogeography; Journal of Human Evolution; Palaeogeography, Palaeoclimatology, Palaeoecology o Journal of Vertebrate Paleontology. His highlights comprise a series of papers on the chronology of primate sites of Catalonia and Europe as well as his studies on the effects of late Miocene climatic changes over Iberian ecosystems, which implied the extinction of a remarkable number of species. Between 2011 and 2013 he directed a project of the Spanish Ministry for Science and Innovation focused in the reconstruction of the life style of extinct small mammals using innovative methods such as virtual reconstruction of fossil specimens or stable isotope analyses in tooth enamel. He has also led field projects financed by the National Geographic Society and the Generalitat de Catalunya [Catalan Government]. He has co-directed several field campaigns, including paleontological interventions at the sites of Can Mata (els Hostalets de Pierola), Can Llobateres (Sabadell) or les Cases de la Valenciana (Gelida), amongst others.
As a rule he annually attends to several scientific meetings, both national and international, and he has also organized special sessions and symposia. Since 2007 he teaches master classes at the Autonomous University of Barcelona and has supervised several research works of master students. In his free time he loves reading, listening to music and watching films, but he also makes some work out from time to time. Now living in Barcelona, he is part of the Castellers de Sants [Catalan tradition based on building human towers] and takes part in other cultural activities.
Selected publications
More publications at: https://www.researchgate.net/profile/Isaac_Casanovas-Vilar