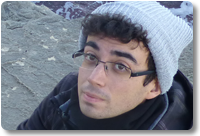 Predoctoral researcher. Mesozoic faunas.

(Manacor, 1993)
I graduated in Biology at the Universitat de Barcelona (2015) with a minor in Biodiversity, and a Bachelor's dissertation entitled: Review of the genus Caseyella Cantú-Chapa, 1976 (Ammonoidea: Desmoceratidae) and its species from the upper Aptian (Lower Cretaceous) of Mexico. Later, I took some courses of the degree in Geology, also at the University of Barcelona (2016). I studied a Master's on Applied Palaeontology at the Universitat de València-Universitat d'Alacant (2017), with a Master's dissertation entitled: Evolutionary trends in the Balearites-Pseudothurmannia genera boundary. Morphological variability, taxonomic and biostratigraphic implications for the late Hauterivian (Early Cretaceous) from the Betic Cordillera (Southern Iberian Peninsula, Western Mediterranean). I obtained the FI grant (Grants for the recruitment of early stage research staff) of the Generalitat de Catalunya, and I benefitted from it for 5 months in order to carry out my Ph.D. thesis at the ICP (Institut Català de Palontologia Miquel Crusafont). I am currently working on my thesis at the ICP with a FPU grant (Grants for the training of university professors) of the Spanish Ministry of Culture and Sports. My thesis project is entitled: Characterisation of the tetrapods from the Permian and Triassic of the Gymnesics (Balearic Islands, Western Mediterranean): palaeoecological and palaeobiogeographical implications, and it is focused on the study of bone remains and footprints from the Permian and Triassic series of Mallorca and Menorca.
He is granted with a FI grant from the Departament d'Empresa i Coneixement (Generalitat de Catalunya), the Agència de Gestió d'Ajuts Universitaris i de Recerca (AGAUR) and Secretaria d'Universitats i Recerca, co-financed with the Fons Social Europeu.

E-mail: This email address is being protected from spambots. You need JavaScript enabled to view it.
ResearchGate: https://www.researchgate.net/profile/Rafel_Matamales_Andreu2
ORCID: http://orcid.org/0000-0001-9914-0510